Planning a destination wedding in Italy requires the completion of a fair amount of paperwork. Here we will guide you through the process, from tips on picking your location, your venue, your flowers and more, so that you can have the wedding of your dreams.
Planning your wedding
Hiring a local wedding planner can help you navigate through Italy's wedding paperwork, contact local vendors and negotiate fees. Having help from a known expert with established relationships with local people will help you save money, time and stress with their tips on picking your venue, food, wine and more. Wedding planners can offer full-service planning, day-of only, paperwork only, location scouts and more.
Official paperwork
Paperwork requirements differ considerably from city to city. The UK Consulate mails paperwork directly to the wedding hall for its citizens. In contrast, US and Australian nationals need to get a sworn statement from their embassies and then have it legalized at an Italian courthouse.
Do not apply for documents and certificates more than 6 months before the wedding as they will expire under Italian regulations. All original documents will need to be accompanied by Italian translations via an agency verified by the Italian Consulate. Applications for Nulla Osta (a Certificate of Freedom to Marry) should be submitted at least four months before the date of the marriage.
More
---

Italian weddings are rich in symbolism and tradition. An Italian wedding reception will be lavish with great care taken to ensure that all in attendance enjoy themselves and the day is memorable. You will be a part of a huge gathering with 350 guests on average, though it can be several hundred more. Weddings in Italy are focused around family, with cousins, parents siblings and great uncles and aunts all invited.
Whether you are a foreigner throwing an Italian wedding party or you are attending an Italian wedding of someone you know, we can help you select the best wedding gifts to avoid any embarrassment.
A gift of gratitude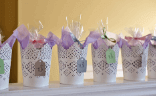 In Italy, a wedding reception is a time for people to pay their respects and to thank the parents of the couple just married for special favors previously received from them. Italian etiquette insists that a wedding gift must be presented, do not go empty-handed.
Wedding gifts reflect the standing in the community of the couple's families. This means well-respected families will traditionally get lavish gifts as a token of gratitude for being invited to the wedding. You can always tell how important or well-respected, but not necessarily how wealthy, the parents of a couple getting married are by the size and value of the gifts brought to their son's or daughter's wedding reception.
More
---