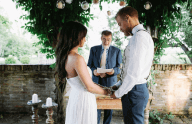 To make your nozze (wedding in Italian) in Italy truly authentic, there are a number of wedding traditions and superstitions that add to the charm of your celebrations.
Here are some of them:
Choosing the day
Italian superstitions state that Friday should be avoided as it is the day evil spirits were created. Tuesday, Martedi in Italian, derives from the word "Marte" referring to the God of War. According to Italian superstitions, couples who marry on Tuesday risk a long life of fighting. The best day is Sunday, thought to be the luckiest day to marry and signifies fertility and prosperity.
The Rehearsal Dinner
Before the pasta is passed at the rehearsal dinner, the best man toasts "Per cent'anni," or "A hundred years," to wish the new couple a century of good luck. The "evviva gli sposi!" or "hooray for the newly-weds" is the second toast given. Both of these wedding traditions from Italy are done with Prosecco or Italian champagne in hand.
More
---

Italy is a popular location for celebrity weddings. Italy offers amazing scenery, romantic history, delicious cuisine and a vast array of fine wine making it a perfection backdrop for a lavish wedding. Since the word romantic comes from the word meaning "from Rome", it's no surprise Italy is such a popular wedding destination.
Here are some celebrity couples who celebrated their wedding in Italy:
George Clooney and Amal Alamuddin
Hollywood star George Clooney and British-Lebanese barrister Amal Alamuddin became man and wife at the end of a four-day Venetian extravaganza in September 2014. The couple and their guests arrived in style on boat taxis, followed by paparazzi, and tied the knot inside the luxurious sixteenth century Aman Venice hotel on the Grand Canal with a star-studded guest list.

Chrissy Teigen and John Legend
Grammy award winning singer John Legend married celebrity model Chrissy Teigen in an intimate wedding at Villa Pizzo in Lake Como in September 2013, the place where they first fell in love. The couple were joined by a long list of A-list celebrity friends. The glamorous wedding saw the model wear not one, but three stunning Vera Wang dresses, buying a new one each time she went in for a fitting.
More
---