Italian Wedding Gift Etiquette

Italian weddings are rich in symbolism and tradition. An Italian wedding reception will be lavish with great care taken to ensure that all in attendance enjoy themselves and the day is memorable. You will be a part of a huge gathering with 350 guests on average, though it can be several hundred more. Weddings in Italy are focused around family, with cousins, parents siblings and great uncles and aunts all invited.
Whether you are a foreigner throwing an Italian wedding party or you are attending an Italian wedding of someone you know, we can help you select the best wedding gifts to avoid any embarrassment.
A rose for eternity
Finding the perfect wedding gift is no easy task. Sure, you could pluck something off of the registry, but if you want to give something unique, roses are great choice. Not any roses, but precious-metal and glazed roses that last for eternity. Each and evry Eternity Rose is made from natural rose. The rose type is a species carefully selected for quality and form. Red rose was considered to be the national flower of Italy, before the Lily. Roses in their different hues are thought to be perfect for a gift. This gift will show them how special they are for you.
A gift of gratitude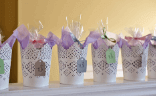 In Italy, a wedding reception is a time for people to pay their respects and to thank the parents of the couple just married for special favors previously received from them. Italian etiquette insists that a wedding gift must be presented, do not go empty-handed.
Wedding gifts reflect the standing in the community of the couple's families. This means well-respected families will traditionally get lavish gifts as a token of gratitude for being invited to the wedding. You can always tell how important or well-respected, but not necessarily how wealthy, the parents of a couple getting married are by the size and value of the gifts brought to their son's or daughter's wedding reception.
Money

Italian wedding gift etiquette suggests that the sum of money given as wedding gifts from each guest should at least cover the cost of your meal. If you are related or very close friends, etiquette dictates that gifts should be more, gifting double the cost of their meal.
Italian wedding gifts are not cheap. A wedding meal in Italy can be fourteen courses and the rule to "cover the plate" might cost 250 dollars per person. That is your minimum value and many guests will double this figure.
This repayment for former favors, sometimes referred to as "raccomandazioni o favori" are usually gifted at the reception. As you enter the reception area you will see a special table clearly set up for the purpose. It is here, under the watchful eye of everyone else, that guests leave repayment. There may also be someone at the table making note of who has left a gift and what that gift represents.
If you do not leave a gift, the Italian's have a phrase "la brutta figura" which literally means an ugly figure, but in terms of Italy's wedding gift etiquette suggests "your actions should embarrass you" or "you have made a fool of yourself" for not respecting the accepted rules of Italian society.
La borsa

Another wedding tradition related to gifts is that a bride carries a satin bag, called la borsa, at the reception. This can either be instead of, or in addition to, the favors table as you enter the reception. The idea is that you place money in this bag. This wedding gift will help the couple make some future arrangements, including plans for a honeymoon.
Another Italian wedding gift etiquette is to place some money in the satin bag if you want a dance with the bride. It is also not unusual for grooms to cut pieces of their tie and sell them to guests for money. You must be ready to spend some money here.
Guests receive wedding gifts too
In Italy, it is tradition that guests always receive bombonieres or favors at weddings. You will receive bags with no less than five pieces of sugared almonds. Some couples also give out Christmas tree ornaments, wrapped cookies and more.